Here's a St. Patty's Day book that I'm going to be reading to my firsties this week. Each of my kids have a reader response notebook that they add to about twice a week. I'm going to have them do this fun little predicting sheet to put in their response notebook based on the book...
There Was An Old Lady Who Swallowed a Clover by Lucille Colandro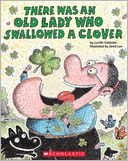 Click here
Old Lady Predicting Sheet
My kids love all of her "Old Lady" books. I'm going to have my kids make predictions about things that she might swallow in this story based on St. Patty's Day. They're going to draw pictures and write words. We're going to do this tomorrow, so I'll upload some pics of finished ones to show everyone!