This week my firsties and I spent some time practicing our inferencing skills. I started the week by using a fabulous idea that I came across from Abby on her blog
The Inspired Apple
: What's in my Teacher's Bag?
On Tuesday, we used some of Sarah's ideas from her
Making Inferences Mini Pack
. Thank you Sarah for all for your hard work! :)
On Wednesday, I read my kids the book Two Bad Ants by Chis Van Allsburg. This is an amazing book for making inferences. Students use the picture clues and the text to try to figure out where the ants are. My favorite page is where the ants end up in a boiling brown lake. My firsties inferred that it could be hot chocolate or coffee. Then, on the next page it talks about how it tastes bitter. One of my kiddos said "Yuck! That's not hot chocolate, it's coffee!"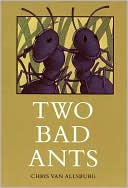 After reading the book and making inferences as a class, students completed a little Two Bad Ants Inferencing Sheet that I made up. You can get it for free here:
Two Bad Ants Inferencing Sheet
Then, on Thursday I read my kiddos the book Those Shoes by Maribeth Boelts. We practiced our inferencing skills once again! This time my kiddos inferred how the main character was feeling through the book.

Students held up these faces to show how Jeremy was feeling. A big thank you to my mom who put together nine sets of these for my kiddos! She got the idea from a Mailbox Magazine.
We talked about words to describe the faces before we started reading. During the story, I stopped at different places for students to hold up a face showing how Jeremy was feeling. Then, students gave some reasons for their choices. All I have to say is that the little boy in the story was on an emotional roller coaster ride. :) My students ended up using all of the faces and some held up two at once!
I hope that you will be able to use some of these inferencing ideas in your classroom!